Journey to Lake Natron and Back
by John Fuhring
Chapter 1
Arrival in East Africa
As my loyal readers know, this is my second trip to Africa. As before, I flew from Los Angeles to Amsterdam and from there to Nairobi, Kenya. I then took the Davanu Shuttle bus from Nairobi to the Uto Farm in North Central Tanzania. This time I arranged to fly into Nairobi early in the morning so I wouldn't have to spend the night in Nairobi and so I could catch the morning bus to Tanzania.
Now that I was an "old hand" at getting around in Africa, everything was so much easier and less stressful than on my first visit. On my first trip I landed late at night, didn't have hotel reservations, didn't know how to get into Nairobi and didn't know what to expect on that long, long ride down to the Farm in Tanzania. I had never seen an African city or a village before and all those sights were so very exotic and, yes, scary. In a way though, my first confused adventure landing in that strange city and experiencing those strange sights was greatly exciting, interesting and, yes, fun. At this, my second arrival, I felt very little of that old excitement. That initial drama was replaced with that ennui we all get when we've "Been There - Done That."
As ironic as it sounds, one of the things that took the mystery out of this second trip was E-mail. The internet and E-mail are certainly the greatest information revolutions since the invention of movable type. Even little companies in far off Africa have web pages and E-mail addresses. Before the trip I checked out the Davanu Shuttle's site and then E-mailed the date and time I'd be arriving. I knew they were expecting me, but even so, I was blown away when I saw a native guy holding a big sign with my name (spelled correctly) on it as I cleared customs. I went over to him and expressed my amazement and gratitude for this rather nice welcome, whereupon he conducted me to the little office of the Davanu Shuttle Service there in the airport building.
I was introduced to the young guys in the little office and we shook hands all around. We talked a bit and they were all eager to have me find out about visas for them so they could visit the U.S. I asked them why they wanted to go there just now. "Oh, everything is just wonderful in the States. Everybody is so kind and friendly and there's lots of things to see and do." I asked them how that knew that and they told me that they had seen it all on American TV shows. I told them that those shows aren't real or an accurate expression of life in the U.S., but I might as well have been talking to stones. Anyway, they made me promise them that I'd E-mail them all the information and use my "influence as a man of importance" to get them visas. They were very careful to ask me to use only their personal E-mail addresses - not to, by any means, contact them via the Davanu site (they didn't want to loose their jobs).
While we were talking, they brewed up some of that great East African coffee and we drank some. Actually, I drank lots and lots of coffee. Matter of fact, I drank too much coffee. Indeed, I was to bitterly and painfully regret drinking so much coffee, but I'll get to that later. I settled down to read the Daily Nation - actually an excellent newspaper and full of really interesting and well written articles. In time, 8:30 rolled around and I was escorted from the office to the front of Jomo Kenyatta Airport where I and my gear loaded onto the morning Shuttle.

Once inside the Shuttle and after the door closed, the first slight symptoms of "bladder hypertension" began to be felt and I knew, I just knew that I should visit a urinal before the trip began. I was just about to ask the driver to wait a couple of minutes when the door closed and we pulled out. OH SHIT!! From the previous trip I knew that the bus didn't stop until we reached the Tanzania border - five, yes FIVE long, bumpy, painful hours later. Well, I'd just have to make the best of it. At first it was OK and I enjoyed the ride although it was a bit rainy and very overcast.

Inside the Davanu Bus
(right click for larger image)


The first time I had made that trip was a year and a half earlier it was on a beautiful sunny day (and I had a much gladder bladder). That first time everything was so new and wonderful. There were exotic wild animals, exotic villages, exotic natives and exotic scenery along the way and I had a nice time talking with fellow passengers. This time the trip was rather boring with nobody to talk to, nothing to see and everything looking very familiar - not to mention that I had to pee - badly - very badly. This went on like this for four hours until finally I was in a state of intense and growing agony - that damned coffee, what a fool I was to drink so much of it.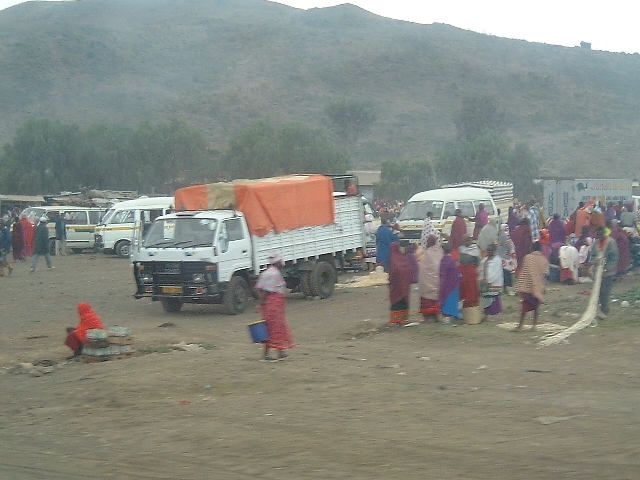 Market day scene taken while whizzing by on the bus.
As we bumped along, the scenery and landmarks looked quite familiar to me (this was my third trip over this same road). After some hours I started getting most anxious and was hoping to see the tourist stop around every corner. Every time we'd pass a curve I'd be in for another disappointment. After five hours had gone by I was in a wild state of agony. Although I knew we were close, I just had to know exactly when we'd be stopping. I made my way to the front of the bus and asked the driver how far were from the stop. I had decided that if we were more than 10 minutes from the stop, I would demand, absolutely demand that the driver stop the bus and let me off. On the other hand, if the driver said it would be less than 10 minutes, then somehow I'd have to find the endurance to hold out. To my great relief the driver said it would only be another five minutes or so. Actually by accurate count, it was only three minutes to the stop - I counted every agonizing second one by one by one. I stood in the doorway of the bus while waiting for it to pull in to the stop and it took all my self control not to hop up and down. Believe me, by this time I was beyond all shame and burst out the door even before the bus came to a complete stop. Everybody on the bus must have known why I was so eager and I could hear laughter as I quickstepped (I couldn't even run by this time) to where I knew the toilets were (thank God they hadn't moved them). Matter of fact, I was laughing out loud at myself knowing how ridiculous I looked and how funny the situation was. Have you ever heard of the theory of the homunculus? Well, my homunculus was there looking out from its metaphysical perch and was highly amused at our sufferings. How's that for a heavy thought?


One of the native arts shops at the rest stop.
Toilets in the rear.

The rest stop I'm talking about is located just north of the village of Namaga on the Kenya, Tanzania border. In addition to good, clean toilet facilities, this stop has some rather good quality native art shops on the premises. I got caught up looking at some well carved soapstone elephants (I should have bought one) and nearly missed the bus as it started pulling out without me. After I got on, we took the short ride to the Kenyan immigration office where we all had to get out, fill out forms and have our visas checked and our passports stamped. We then got back on the bus for the very short trip to the Tanzanian immigration office (actually these buildings were mere shacks) where our luggage was unloaded. Our passports were again checked and stamped and those of us who didn't have visas had to pay $50 in American Dollars for one. Most of the immigration officers were businesslike, but unfriendly. However, the guy who was responsible for checking baggage was full of smiles as he waved us through without opening anything.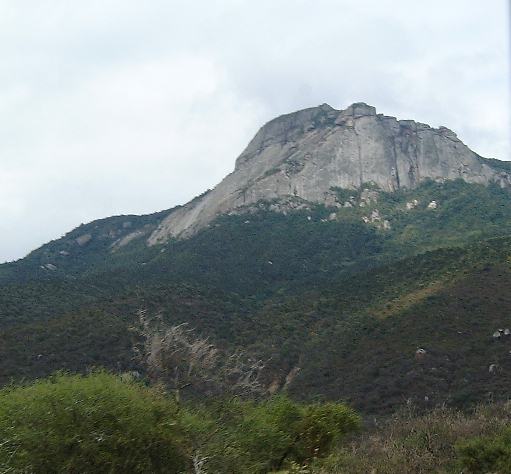 Mt. Longo from the highway.
Back on the bus we crossed into Tanzania and motored past the imposing ramparts of Mt. Longo and through the village of Longito. Things along the route looked very much as before, but I was a little surprised to note that there was new development and construction that wasn't there before. The weather was still very overcast and the day was somewhat gloomy and I was wondering if we would be riding in the rain once the trip started. Finally, around 1:30 PM, we arrived at Oldoinyo Sambu, but this time there weren't the colorful crowds out and about and this time I knew that I wasn't to be dropped off in the village and besides, I knew just where to go if they did drop me off in the village. When we got about two miles south of town, there was the Land Rover and the folks waiting for me as expected - nice, but oh so boring. It was all pretty much a ho-hum routine and I must admit that it wasn't the intense emotional experience I had the first time I arrived there (see Kilimanjaro Ride story). I guess it's the first time you do something that's always the best and that must be what they mean when they say "you can never go home again."