My African Adventure
Part 1, the Horse Safari
By John L. Fuhring
PAGE 1
This is an account of my trip to East Africa. I am not a professional writer so please forgive the grammar and style of writing. I'm not a journalist or scientist therefore the following makes no claim to be complete, entirely accurate, objective or fair, but I have done the best I can. This is written for my own amusement and I hope you find it amusing too.
Page one, Chapter one
Following in the footsteps of such great explorers as John Speak, Richard Burton, Dr. Livingstone (I presume) and Stanley, my own "Great African Exploration" began with a drive from Santa Maria to the Manhattan Beach apartment of my niece, Jennifer, early on the morning of October 12. The traffic on the worst stretch off freeway in California was very light in the wee hours of the morning and it only took me three hours to get there. Jennifer graciously drove me to the airport and arranged to take care of my car while I was gone thereby saving me a lot of worry and a ton of money (thanks Jen, can't tell you how much I appreciated it!). The plane that would take me from Los Angeles to Detroit then to Amsterdam and finally to Nairobi took off early that morning and I was on my way.
The following night (Friday the 13'th) I landed at the Nairobi airport weary of travel, but full of excitement to be in Africa for the first time in my life. It was eight PM, very dark and I had read dire accounts warning about being out in the streets of this very poor country after dark. I had no hotel reservations and didn't know how to get anywhere at that time of night. The truth is, I was very concerned about being alone in a most alien land and how I was going to get from the airport to the city many miles away.
As it turned out, the plane I was in was filled with American missionaries, wannabe (fortnight) missionaries and representatives of churches who were coming to Africa to check on how their mission funds were being spent. Most of these people were from the Midwest and were out to "do the Lord's work among the infidel heathens." Little did those good people know that the person they were talking to on the plane and at the airport was an infidel heathen too. Not wishing to offend anybody and hoping I might get some free advice or even a free ride, I listened intently as they described their church work and how they were going to get around on arrival. To my relief and satisfaction I was invited to accompany a group to a hotel in Nairobi (the Fairview Hotel) that had been earlier recommended by my safari company. I was told that a good Christian native family would meet us at the airport and drive us to the hotel and I was most welcome to ride with them. I thought - hey, this is great - a free ride right to the hotel's door and all I'll have to do is act like I'm praying every so often. (Ain't I a stinker?)
When the native family arrived at the airport, it was in a horrible, raggedy old mini-van. Oh lord, the van was a real piece of junk! To make matters worse, the little van was really too small for the native family, the Holy Joes, the luggage and me, but we all squeezed in somehow. The ride to town was harrowing. It certainly tested a guy's ability to control his sphincter muscles. The sliding door wouldn't close all the way and the old van lurched and screeched and at one point we got forced off the road. After coming to a stop alongside the road, the engine stalled and I didn't know if we would get it started again, but it did start and we continued the trip. Like everything in Africa, driving was "survival of the fittest" and wending our way through traffic was more like "bumper cars" at the County Fair. For a while there I was sure that this was God's way of getting even with me me for my earlier impiety.
I felt a great sense of relief when we pulled up to the Fairview Hotel. The Fairview is an old, but very quaint hotel from the days of British rule and the managers are very careful to preserve that colonial aspect of its atmosphere. The hotel is located in a old section of town above the main downtown. It is cool at night in Nairobi and they had a log fire burning in a room off the main lobby (imagine, we were only two degrees from the equator). This fire was a nice touch and gave the place a rustic charm. Beyond the fireplace was a really elegant dining room. I was quite hungry so I went in for a quick snack before retiring to my room for the night. I ordered a local snack called a samosa which is like an egg roll except it is folded into a triangle and is quite spicy and tasty. I also sampled an excellent local beer (Tusker). One thing I did notice was the grounds of the hotel were completely surrounded by high walls and the walls were covered with coils of razor wire. In addition to the walled security, I also noticed that there were several uniformed guys with clubs patrolling the grounds all night long.
Once in my room I noticed that there was no air conditioning, no screens on the windows and no fan on the ceiling. Each bed had a mosquito net bunched above it. I didn't think I wanted to have that net thing over me, so I didn't use it at first. Soon I discovered that I had to use it or get eaten by the mosquitoes. Actually, I quickly learned to love those mosquito nets as they don't affect the air circulation and are wonderfully effective at keeping the bugs from bugging you.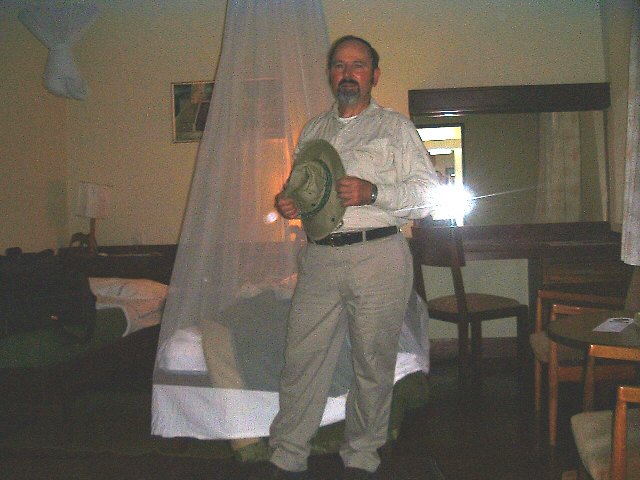 Room at the Fairview with mosquito net let down.
That evening it was time to take my next Larium anti malaria pill. I found out that Larium is a powerful drug that may have severe side effects and many people end up taking something else or noting at all rather than suffer from a Larium reaction. Well, when I took the pill that night (it turned out) I didn't take enough water to wash it down properly. Later in the night I had the worst indigestion of my life and the effects of it lasted for the following three days. That gastric reaction and the fact that Larium seemed to allow me to get by on only three hours of sleep (which can't be good for you) made me decide to risk malaria rather than another tablet. I have never taken another Larium tablet since.
Early next morning, my stomach was in a miserable state but bearable (just). In a vain hope to settle my stomach somewhat I had breakfast in the dining room consisting of tropical fruits including a curious thing called a custard apple. The flesh of this apple sized thing is white with large black seeds scattered throughout it and it did indeed taste vaguely like custard. After breakfast I had a taxi driver take me to where the (famous) Davanu Shuttle was to leave Nairobi for Tanzania. I had a very pleasant chat with the taxi driver before the ride. The guy was very well educated and told me about the emergency closing of the American Embassy. From what I could see, Kenya has a good education system and its people get good schooling, but there isn't much for them to do in their economy after graduation so many end up as taxi drivers.
The taxi driver took me to what looked like a really bad part of town and I was sure he had taken me to the wrong shuttle bus. He left me there and I was stuck. I was even more sure that I was at the wrong place because they had no record of payment or reservation for a seat on the shuttle. According to the information the safari company sent me, I was all set up and my fare was supposed to be prepaid for the trip, but I was supposed to pick up the shuttle at the high class New Stanley Hotel. I argued with them back and forth for several minutes until they finally agreed to make room for me and not charge me for what should have already been paid for.
Once on the shuttle bus and bouncing down the road, it became an enjoyable adventure again. The natural scenery was very interesting and I kept track of where we were by turning on my GPS receiver and checking the distances to places along the way. I sat in the back next to a young Scottish woman (an expert in Scottish law) who was in Tanzania to climb Mt. Kilimanjaro. To my left was a friendly Italian (he could speak English pretty well) and his wife. I didn't know it, but three of my future riding partners were also on the bus, but they never identified themselves to me until we arrived. I didn't bother to ask anybody if they were on the riding trip because I was convinced that I was on the wrong bus, but that was all right because I was sure I would get to the Uto Farm eventually.
We proceeded on south to the Kenya-Tanzania border where we had to get out and have our passports stamped by the Kenya authorities. We then proceeded a few yards where we got out again to get our Tanzanian visa (for $50 in U.S. money - cash). More questions and forms and more stamps in our passports and we were on our way again. I might mention that this was our first (but not our last) encounter with the street vendors who will not leave you alone. It was and is a pitiful sight to see hordes of poor people trying desperately to interest you in their wares. Telling them you aren't interested has no effect on them because they are so desperate to sell you something - anything. They are so desperate, they can't pass up even a hopeless chance to sell something.
After we crossed into Tanzania we were on the lookout for a sight of Mt. Kilimanjaro. I had programmed in the geographic coordinates of the mountain and I knew where to look for it, but we couldn't see it because of the distance and especially because of the haze and clouds. Two native guys (one dressed in a black suit and wearing a Roman or Anglican priest's collar) insisted a mountain ahead was Kilimanjaro, but I said I didn't think so, but that Kilimanjaro should be due east of us. I didn't want to offend anybody (especially a native) so I didn't say any thing more. Finally when we got close enough the guys admitted the mountain (Mt. Maru) wasn't Kilimanjaro and we had a laugh when I said that "see, Science is never wrong."
As we proceeded south my GPS receiver indicated that we were approaching the village of Oldoinyo Sambu near where the Uto Farm was located. It was market day and the village was crowded with African people, but not one "Safari Operator" type in the entire village. I was starting to panic because I didn't want to be dropped off in this village without any guide or even access to a telephone. Please bear with me, I'd like to digress to say something about East African villages like Oldoinyo Sambu.
I didn't get pictures of the third world villages or their people because I got this feeling everywhere I went that people didn't like to have their pictures taken. No way did I want to cause an embarrassing incident by taking pictures without permission. Without pictures, it is impossible to fully describe what the "business district" of an East African village looks like. All I can say is that the business district of a typical village is made up of the most outlandish collection of small shacks placed next to each other. These shacks are made up of old boards or sticks woven together and covered with mud. Sometimes these shacks are painted and elaborately lettered (usually in English) identifying the shacks as stores, beer bars, barbershops, chemists shops (drug stores) or (believe it or not) one room hotels. The influence of America, Hollywood and Los Vegas is to be seen everywhere. On market day (usually Saturday) there are hordes of people milling about, most of which (especially the women) are dressed very, very colorfully with stuff on their heads like bananas, clothes or other goods. Goats and donkeys are everywhere as are cattle. There is no landscaping or even an attempt to have any flat or regular surface any where in the village - the lack of pavement and regularity really looks terrible. Usually there is no electricity in the entire village (unless there is a gas station in town), no telephones and only one tap where running water is dispensed at a special shack. There is nothing in America that I've ever seen that will prepare you for the sight of an East African village. On the other hand, In a very unorganized way, those villages did make me think that this is what new "Boom Towns" of the California Gold Rush of 150 years ago must have looked like. Certainly the overall level of technology is the same.
Anyway, as I was saying, the shuttle was driving through the village of Oldoinyo Sambu. The driver knew where I was supposed to be going so he just kept driving without slowing down and finally about a mile south of the village, he stopped near where a Land Rover was parked. What a relief to see European looking people waiting there. Then to my surprise, out of the bus came three other people who were to be part of the ride. We all packed into the Land Rover and drove the half mile to the Uto Farm to settle in and to try out horses.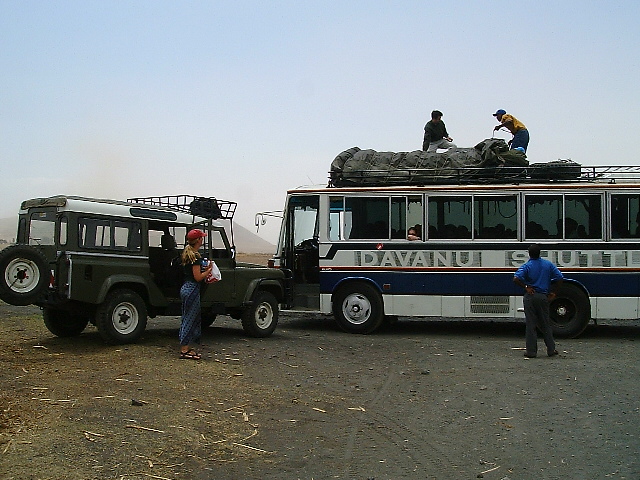 Arrival near the Uto Farm and disembarking the Davanu Shuttle
The Uto Farm is the nicest place I saw while in Tanzania. I'm sure there are other beautiful farms and dwellings throughout the land, but I didn't get to see them. After a nice lunch where we got to meet each other and our safari hosts, we went out to see and try out the horses. I tried out a couple and got along with them, but didn't get along with another and finally requested a bay gelding named "Coogah." He was an ex-race horse and I liked him. I asked if the name Coogah was a Swahili word for something, but was told that it was the name for a large American wild cat - Oh you mean Cougar (coo-gurr). Ya, that's right, Coogah.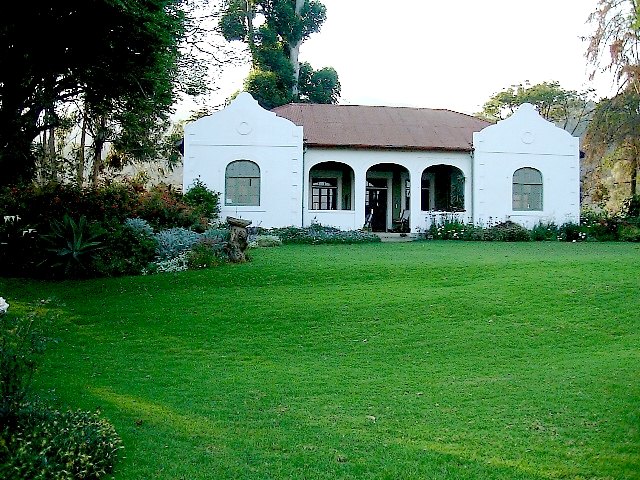 Front of the Farm House. Built in the "Dutch Cape" style.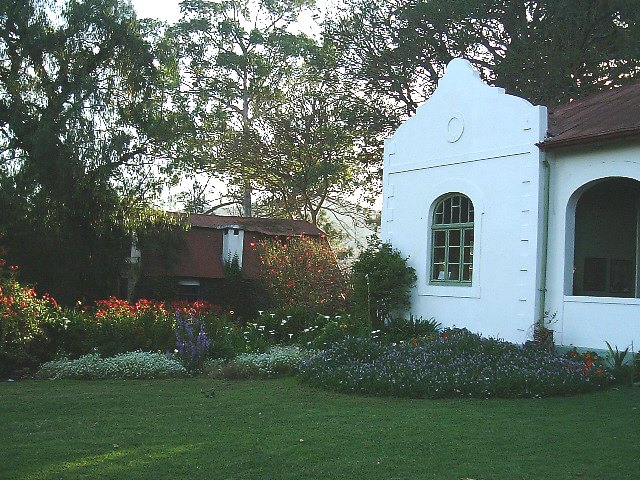 The Guest House I stayed in.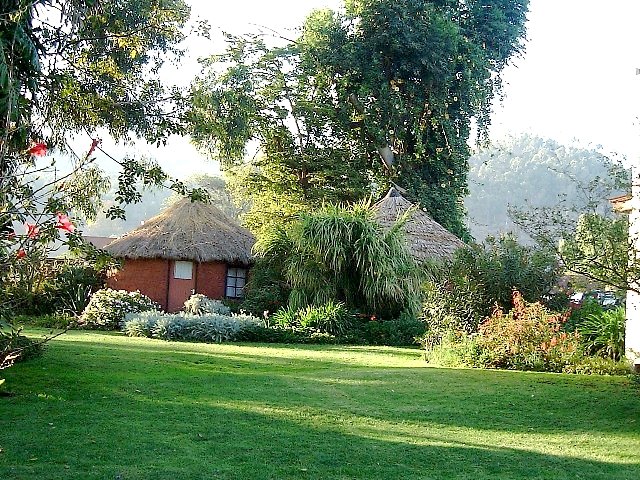 African "Boma" style guest houses in the back.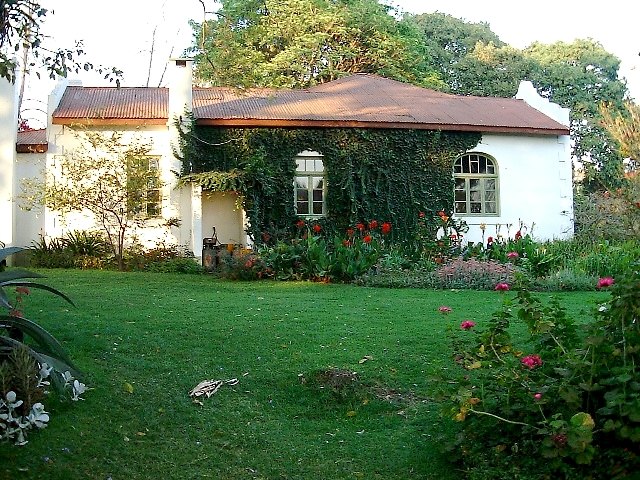 Side of the house seen from my Guest House.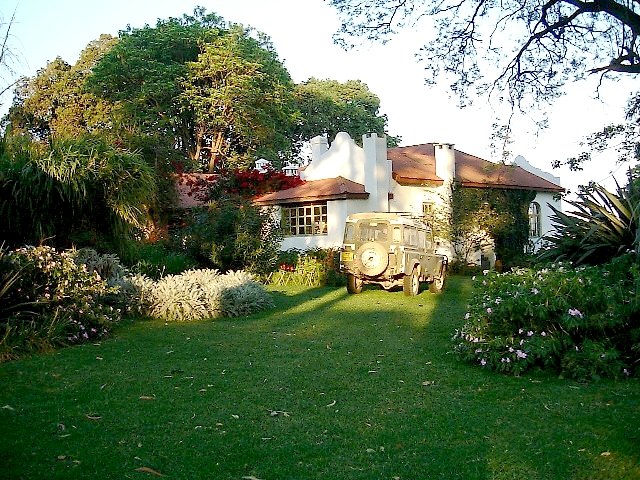 Rear of the Farm House.
Scenes around the Farm House
36 degrees, 41.074 minutes east longitude 3 degrees, 11.126 minutes south latitude
6,377 feet above sea level datum
I wasn't satisfied to just walk and trot my horses around the big pasture, I wanted to see if they were manageable at all gates so I ran them about a bit. The others in our party started doing so also. The other John in our group (from England) couldn't get his horse out of a trot when suddenly it took off with him. I saw him coming around the far side of the pasture and thought if he could just stay on, I was absolutely sure I could stop the horse when it got to me (I've done it many times before). In those English riding schools, one of the first things they teach the student is how to exit an out of control horse. In my mind this is dumb, dumb, dumb - the first thing they should teach beginning students is how to handle an out of control horse. On the other hand, there are few more terrifying moments in a person's life than being a green rider on an out of control horse and it really is hard to remember all the things you're supposed to do. Well, John made what I considered one of the most graceful high speed dismounts I've ever seen on film or at a circus. He did (what looked to me like) a cart-wheel and landed on his feet. It looked very much like John had come out of that dangerous situation "smelling like a rose" but, alas, he broke his forearm when he whacked it against an exposed tree root while doing that spectacular cart-wheel.
I couldn't believe what a good sport John was about the whole thing. Like one of our own hunt members, he didn't try to blame anybody or anything but just bad luck. Jan, the safari camp steward, quickly took him into the nearest city (Arusha) where he could get medical attention. The story of how they had to turn the town upside down to find a doctor and an X-ray technician on a Sunday is a highly amusing story all of its own. John received the basic medical attention he needed and later returned to the farm all done up in an old fashioned plaster cast that extended from beyond his elbow to below his wrist. There was no way he wanted to end his safari before it had begun, so arrangements were made for him to ride in the support vehicles and, if things went well, ride with us in the afternoons when we usually rode more slowly. This turned out to be an excellent arrangement and John was able to have a quality safari experience after all.
Meanwhile, we all got ourselves matched up with horses that suited our temperaments. Probably the best rider in our group was Judith, a young lady from Belgium. She chose the horse I didn't like as her favorite - just goes to show the truth of the old saying: "one man's meat is another man's poison." I was warned that "Coogah" had a hard mouth, was hard to stop and always had to be out in front - I might not like him once we got going. I said he'd be a good boy and we would get along just fine. In addition to the ridden horses, we had a loose horse with us for John's use and the two girls that worked for the safari company rode horses we could use as remounts if necessary.
From the beginning, Cougar and I got along just great. I've learned over the years that the main reason horses get all fired up, won't relax and get you all tired out and frustrated is because their riders are always hanging on their mouths and controlling them way too much. It seems to me that many people are afraid to let their horses do anything and by having the reins too tight all the time, it drives the horses crazy after a while. One thing I have learned from Western riding techniques is that a loose rein allows the horse to relax and if the horse does run off or goes a little too fast or the wrong way, so what? To get the horse back under control without getting it upset, all you have to do is give it a little bump in the mouth and it quickly gets the message. Matter of fact, a lot of the time I just let the reins rest on the neck and only picked them up if the horse needed a little guidance or if there was danger of elephants around. Anyway, that's how I rode Cougar (and later a mare named Queen) and they were (in my opinion) two of the best behaved horses on the ride although both of them were ex-race horses and full of spirit.
Early Monday morning we loaded our stuff, had a great breakfast at the Farm and set out on the mounted safari. We headed for and rode through the village of Oldoinyo Sambu and it was like riding in a parade. The kids in the village all turned out to cheer and wave as we rode through and it was nice to get such a reception from such obviously friendly people. The older people were very much more reserved. After passing the village we headed somewhat west and north into the bush.
No doubt about it, Africa is a hard, hard land. It was very dry out there and almost no green to be seen. All the bushes and trees had terrible thorns all over their stems and branches. Early on I made a mistake of touching a tree stem that I was passing nearby with my bare hand. I instantly discovered that in addition to the large visible thorns the entire surface of each branch and twig is also covered by mini-thorns that are in the shape of tiny hooks. These hooks will grab at your clothes and rip them or lacerate exposed skin. I can well believe that if you would ride into a tangle of these thorns, you would be dragged off your horse and suspended (in agony) unable to move or extract yourself - this is no lie!! Riding through the bush back home, we don't pay too much attention to brushing against small branches or bushes, but in Africa you had better never let your attention wander so that the horse runs you into the stuff or you will be sorry.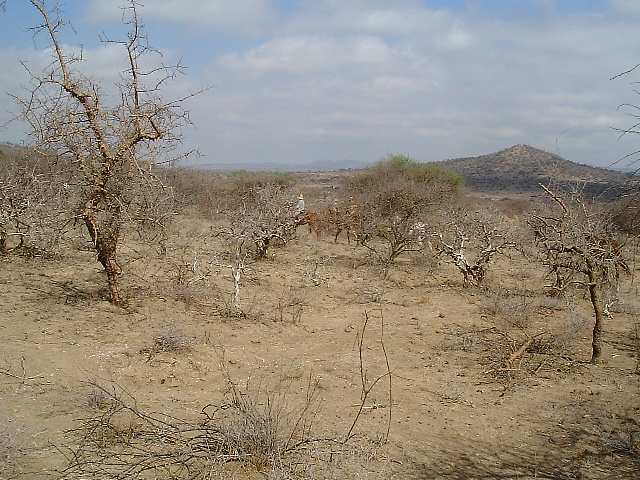 Riding through thorn vegetation typical of the region
We rode for about four hours when we made a rendezvous with the Land Rover. By the time we arrived at the rendezvous, we were delighted to see that they had a lunch camp all set up for us complete with a portable wash basin, chairs, drinks, siesta mats and wonderful food. They even had water buckets and feed set out for each horse and a halter tied to a tree so we could picket them while we relaxed and had lunch. Off would come the saddles, a quick wash up, a cold drink and a nice sit on something not moving while waiting for lunch to be served - it was great!

Our first lunch stop
36 degrees, 41.440 minutes east longitude 3 degrees, 4.077 minutes south latitude
4,813 feet above sea level datum
Lunch was always something really good. After lunch we could sit around on chairs or spread out one of the mats and take a little horizontal rest. Very relaxing for both us and the horses. After a couple of hours rest the horses would be saddled up by the help, we'd climb aboard and off we'd ride again heading north and west into the bush.
We would ride for about three and a half to four more hours (usually at a walk or trot) reserving the high speed riding to the mornings when the horses were fresh and the temperatures were cooler. Usually around 6:00 PM we would catch site of the camp all set up for us and waiting for us to arrive.
The next page will show pictures and tell about the wonderful things we saw as we rode across country on the first day and our initial experiences camping in East Africa.
Please continue on to Page 2 of this story
When you have read as much as you like and before you leave, I would appreciate reading your comments
Please sign my guestbook before leaving.
If you would like to skip ahead, you can return to the
Africa Adventures selection page.